Wonderful White: Bed linens and Soft Furnishings
Hey Friends,
In one of my previous blog posts, I wrote about White, which happens to be my favorite color. Today's blog post (especially "on demand" by my blog subscribers) would give you a glimpse into perfectly designed bed linens and soft furnishings designed in this particular hue.
Almost everything looks so wonderful and modern in white. Not just wonderful and modern, but also bright, neat, fresh, chaste and subtle. It is easy to pair it up against many colors, especially pastel hues and being so subdued in nature, it gives other hues a chance to stand out loud and clear.
In this picture by Wallace Sacks, white has been combined with silver grey which happens to be a neutral color, yet is looking so elegant against white.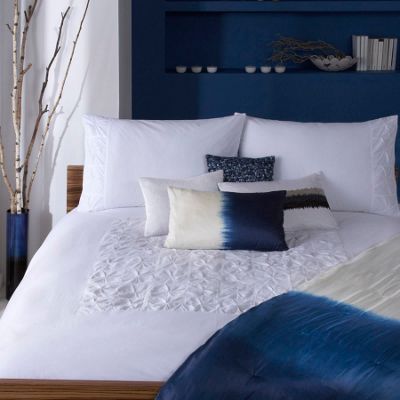 This image by Debenhams Scene , features white as a very calm hue alongside blue which is acting as an accent and together they give rise to a serene ambiance which is stylish and elegant too.
This bedding by Yorkshire Linen looks very sophisticated in white, perfect for all age groups as it looks both classic and chic.
This image by Décor Pad looks simple and chaste with accents of black and grey. The look is both semiformal and easy.
This picture by Designers Guild features a bed linen that is formal, sophisticated and modern. The look is simple and will remain in vogue for a very long time.
These cushions above can be used against any colored backdrop as they look charming in almost all set ups.
The curtains in white look both classic and ornamented. These are easy to install with any color drop.
If you are looking for a dreamy look in your space or to add on a timeless charm of a classic color, try out white and create a soothing ambiance around you.
Cheers!